What is a Party Bus
Whether you're planning a special event or a lavish night out, a party bus is a perfect way to kick off the festivities before you arrive at your destination.
Why take separate vehicles when you can carpool in the most relaxed way possible?
Fully stocked with luxurious amenities, your favorite music, and plenty of space on the dance floor to boogie your way down the road, party buses are indeed the most stylish way to travel around town.
Average Party Bus Sizes
The size of the party bus you choose will depend on the number of people that will be in attendance and the amenities you desire.
Party bus sizes range from the standard stretch limo (limo bus) to Sprinter vans to a big party bus (motor coach or charter bus) that is roughly the same size as a city bus.
How Many People Can Fit in a Party Bus?
How many people a party bus can hold depends on the type of vehicle you rent.
For small parties, a Stretch Limo is perfect. For larger parties, you may opt for top-of-the-line luxury and rent a Motor Coach Bus. Here's a quick reference:
Stretch Limo Bus: Up to 9 people
Sprinter Van Bus: 10-20 people
Hummer or SUV Bus: Up to 25 people
Motor Coach: Up to 45 people (stocked with amenities)
Charter Bus: Up to 55 people (but without many of the amenities).
Inside a Party Bus
When people first hear the term "Party Bus" they may wonder "What does a party bus look like?"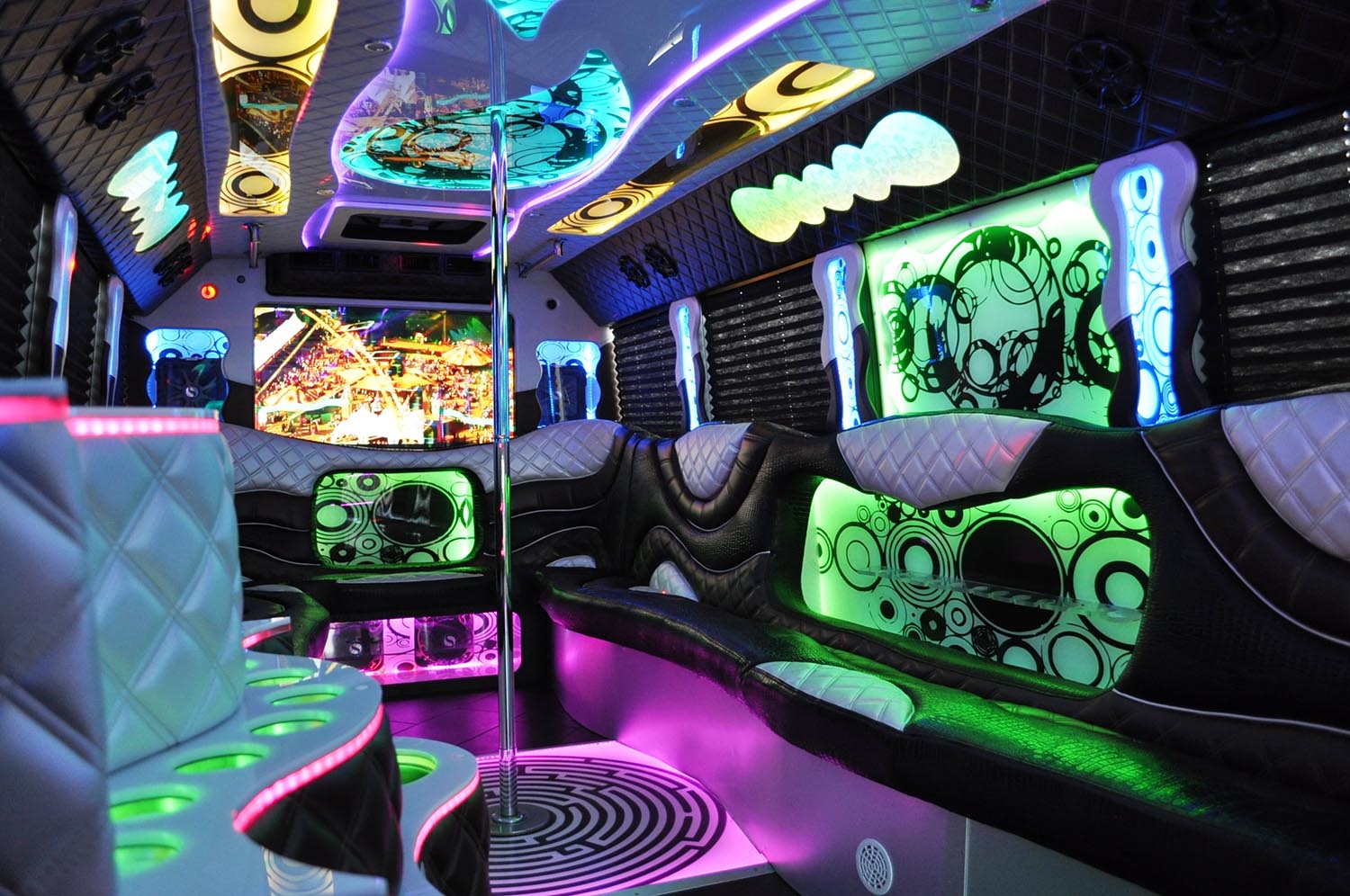 There are many different configurations for different luxury party bus types.
The party bus inside will usually have amenities such as:
Luxury seating
Premium sound systems
HD flat-screen TV
Gaming systems
Dance floor
Dance poles
Laser, LED, and black lights
Refrigerators
Restroom
Elegant glassware and drinkware
Other unique comforts
When you are trying to determine which party bus size and amenities to look for, some things you will want to consider before you rent a party bus in Chicago include:
How many people will attend your party?
Will there be dancing or is it a more relaxed atmosphere?
Will your guests be drinking?
Will there be minors at your party?
How long is the journey?
Is your event during peak times?
Will the cost of the rental be split among guests or is only one party responsible?
Do Party Buses Have Restrooms?
One of the biggest benefits of a party bus is that most do have a restroom (bathroom). After all, the idea is to provide a luxurious way to travel.
If you had to stop the party for restroom breaks, it would be quite a headache and delay your journey, especially for longer journeys.
This way, there's no need to stop the party for restroom breaks.
How Much Does it Cost to Rent a Party Bus?
With such luxury at hand, you may wonder "How much is a party bus, anyway?" Well, the answer depends on a lot of variables. If you're planning to rent a party bus in Chicago, you're definitely going to want to plan ahead.
Party bus rates are calculated in blocks of 4 or 8-10 hours. Most party bus prices have a four-hour minimum requirement. So, if you were thinking of using one for a quick trip across town, you may reconsider that idea by extending the journey and the fun!
Keep in mind that there will be additional costs for extra hours.
The additional costs will likely range from $100—$300 per hour. That is why it is important to plan ahead as much as possible.
Planning your trip during peak times may mean higher prices or reduced availability and choice. If possible, try to reserve your party bus far in advance.
Aim for a minimum of 4-8 weeks in advance, and if it is around the time of a major event, 4-6 months is preferable. This could net you a favorable rate and reduce the headaches of shopping around when crunched for time.
Weather, traffic, special events, and other factors should be considered when planning your trip. Think of it in similar terms of planning your own personal trip.
If you know a certain route could lead to major traffic jams, try to avoid peak times or plan a different route. Bear in mind, though, that if you exceed the predetermined mileage limit, you could incur extra charges.
Party Bus Rental Prices for a Night
Reserving a party bus for a night may be considered peak hours and may cost a little more.
How much a party bus is for a night is based on many factors, including where you plan to go, how many people are at your party, and more.
You can expect to pay around $700—$1,000 for a four-hour reservation.
How Much (Does it) Cost to Rent a Party Bus for a Day?
How much to rent a party bus will depend on many factors, including where you plan to go, how many people you have at your party, when you reserve the party bus, and much more.
Whether your trip is during the day or night, if you reserve an 8-10 hour block, it is considered a full day rental.
You can expect a full-day party bus rental to cost an average of $1,200—$2,400.
Party Bus Rental Prices Per Hour
How much a party bus is per hour will depend on the amenities you want and your destination. If you require a party bus outside of the typical 4-8 hour range, you will usually just pay the average block rate plus the additional hourly rate for going over the predetermined time.
For example, if you need a party bus for 6 hours, you will be charged the rate for 4 hours and an additional 2 hours.
However, there are laws on the maximum number of hours a driver is able to be on the road.
So, if you're going all out and renting the bus for 12 hours, you can expect additional charges if the company accommodates your request and provides you with an additional driver.
How Much to Tip Party Bus Driver
One of the most common questions regarding party bus etiquette is "How much do you tip a party bus driver?"
If you're satisfied with the driver's service, it's customary to include a gratuity of at least 20 percent.
Where to go on a Party Bus
There are nearly endless possibilities of where to go on a party bus. Most people rent a party bus for special occasions such as weddings, birthdays, holidays, promotional events, proms, sporting events, or other celebrations.
But, sometimes, you can rent a party bus just for a fun and unique experience. If you have no destination in mind, you are welcome to just drive around town.
Keep in mind that most party bus companies will have a set number of miles included in the party bus rental rates and if you exceed this, it will cost you extra.
What to Do on a Party Bus
A luxury party bus is designed with fun and adventure in mind. The whole idea is to keep your guests entertained and the party going.
This means that you have access to a wide range of luxurious amenities including HD flat-screen TVs, gaming systems, surround sound systems with Bluetooth connectivity, and a dance floor. Many companies will also accommodate special requests as best they can.
However, there are also certain things to keep in mind that you can't do on a party bus. Under no circumstances are party members allowed to engage in unlawful activities. Because the definition of unlawful may vary from state to state, it is wise to know the laws for the state in which you will charter the bus.
For states where recreational marijuana is legal, this doesn't mean that you will be allowed to use marijuana products while inside of motor vehicles.
The rental company will address this with you, but it is more than likely that any use of marijuana will be strictly forbidden, even if in edible form.
Can You Drink On a Party Bus?
Alcoholic beverages are allowed on a party bus and many buses have lavish bars set up for making the perfect party drinks.
However, all members of your party should drink alcohol in a responsible manner. If the party gets out of hand, you will be liable for damages or extra cleaning fees.
Under no circumstances is underage drinking permitted on a party bus. The legal drinking age for most states remains at 21 years old.
In some states, if a guest is underaged, they are required to have a sober chaperone with them on the bus. Chaperones will be held liable if a minor consumes alcohol on the party bus.
Can You Smoke in a Party Bus?
Most party bus companies have strict policies against smoking on the party bus. The reason being is the smell can permeate the fabric, leaving behind unpleasant odors for future customers. Additionally, smoking on a party bus can present a fire hazard.
If a party member absent-mindedly lights up on the bus, you could face immediate termination of your rental contract and no recourse for a refund. Additionally, you may be charged fines and/or cleaning fees.
Avoid any headaches by letting your party know the rules beforehand and arrange smoke break times ahead of time.
It would be best to not spring a smoke break on the driver whenever you feel like it. Instead, ask if there are good stopping points along the route.
What to Wear on a Party Bus?
What to wear on a party bus is almost entirely up to you! If the atmosphere is more relaxed, but you're on your way to an event, you may opt to carry a change of clothes to allow for the ultimate relaxation to and from your destination. If the bus is going to be a raging dance party, why not dress to impress with your best party bus outfit?
But, there are a few things to keep in mind when choosing your party bus attire, especially if you're going to be standing up and dancing. Wearing high-heeled or unstable shoes may present a safety hazard because, well, you're in a moving vehicle. If the driver needs to abruptly avoid a hazard, those high heels could make you lose your balance and send you flying.
Another thing to be aware of is the company itself may have dress code guidelines that reflect safety concerns or the image they want their clientele to adhere to.
For instance, they may frown upon sports gear, ripped/shabby clothing, or shoes that may damage the dance floor.
Where Can You Rent a Party Bus in Chicago?
At Avital Limousine, our fleet of party limousines and party buses offer you a wide selection of elegant luxury party bus options to cater to your needs.
No matter the occasion, you can never go wrong with renting a party bus.
Contact us today to discuss your event and let us help you create a magical and memorable experience!
Hummer Party Limousine Rental Services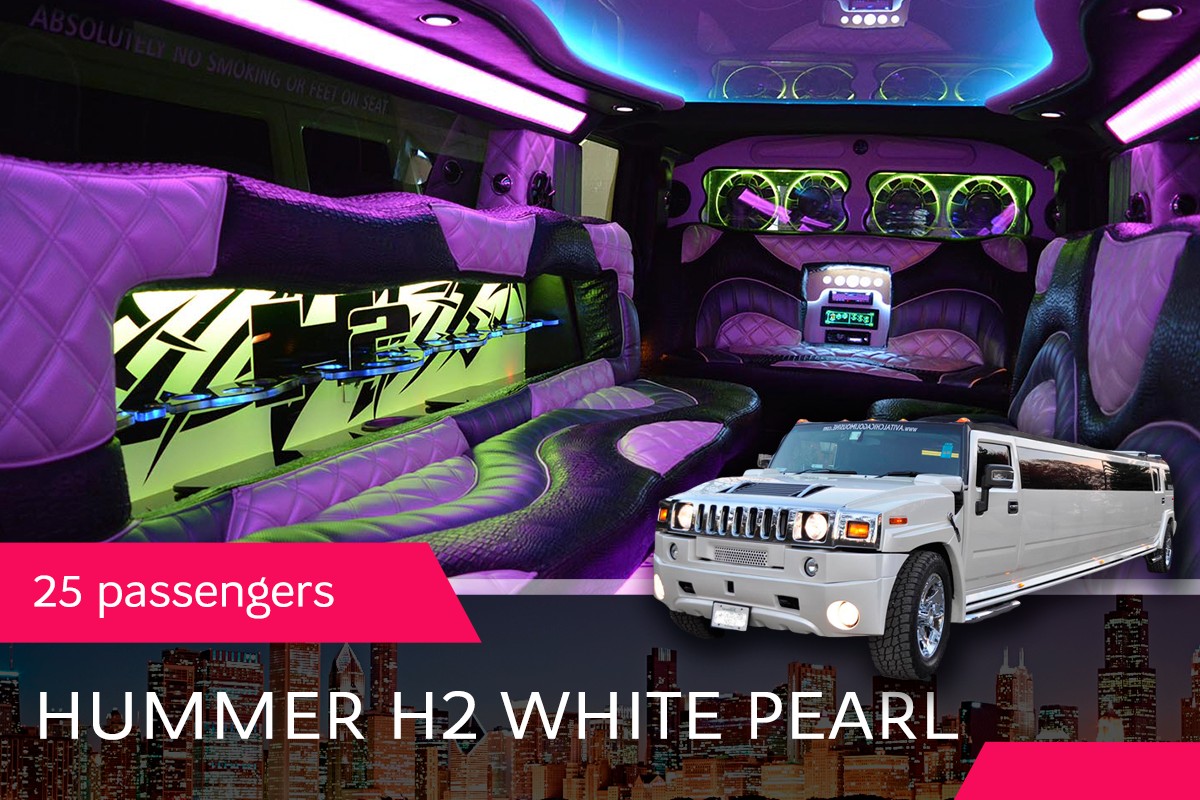 For parties of up to 25, our fleet of Hummer limousine party buses offer amenities that are sure to impress the crowd as you arrive in the opulent style that includes a white pearl exterior color, VIP Disco area, 8,500 Watt sound system, 46″ LED TV, Disco lights & lasers, Disco floor, Disco ceiling/bars, black leather seating, gullwing doors, and 22" chrome rims.
Cadillac Escalade Party Limousine Rental Services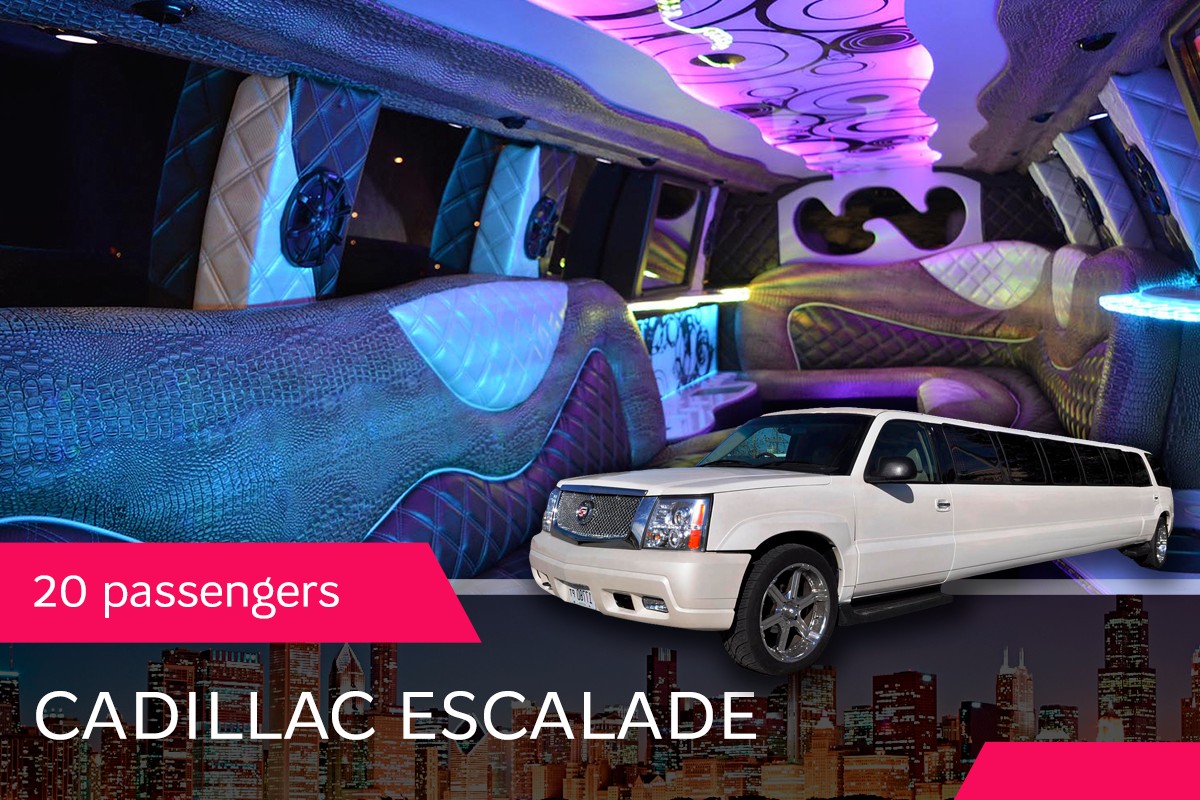 For parties of up to 20, you can rest assured you'll turn heads rolling down the street in our exquisite Cadillac Escalade Party Limousine.
Keep the party rolling with amenities that include a VIP Disco Section, 22″ Chrome Rims, 5,500 Watt sound system, CD/MP3/AM/FM/Ipod Hook Up, LED TVs, Disco lights & laser show, Disco floor, Disco ceiling/bars.
Lincoln Navigator Party Limousine Rental Services
For parties of up to 14, there's something special about the Lincoln Navigator Party Limousine that just exudes elegance.
This masterpiece of party machinery includes amenities like a VIP Disco Section, 22″ Chrome Rims, 5,500 Watt sound system, CD/MP3/AM/FM/Ipod Hook Up, LED TVs, Disco lights & laser show, Disco floor, Disco ceiling/bars.
Luxury Party Bus Rental Services
Our fleet of luxury party buses are perfect to accommodate larger parties of up to 36 people. Each bus offers its own unique style and features that can perfectly fit any occasion or theme.
Our 30 passenger Martini Edition Party Bus will provide luxury transportation services for your passengers into an elegant world of fun with a sleek design reminiscent of a starry night.
The 34 passenger Versace Edition Party Bus combines sophisticated decor that Versace himself would be proud of!
But, 36 passenger Krystal Edition Party Bus will pump up any crowd for a wild night out on the town.
Kid's Party Bus Rental Services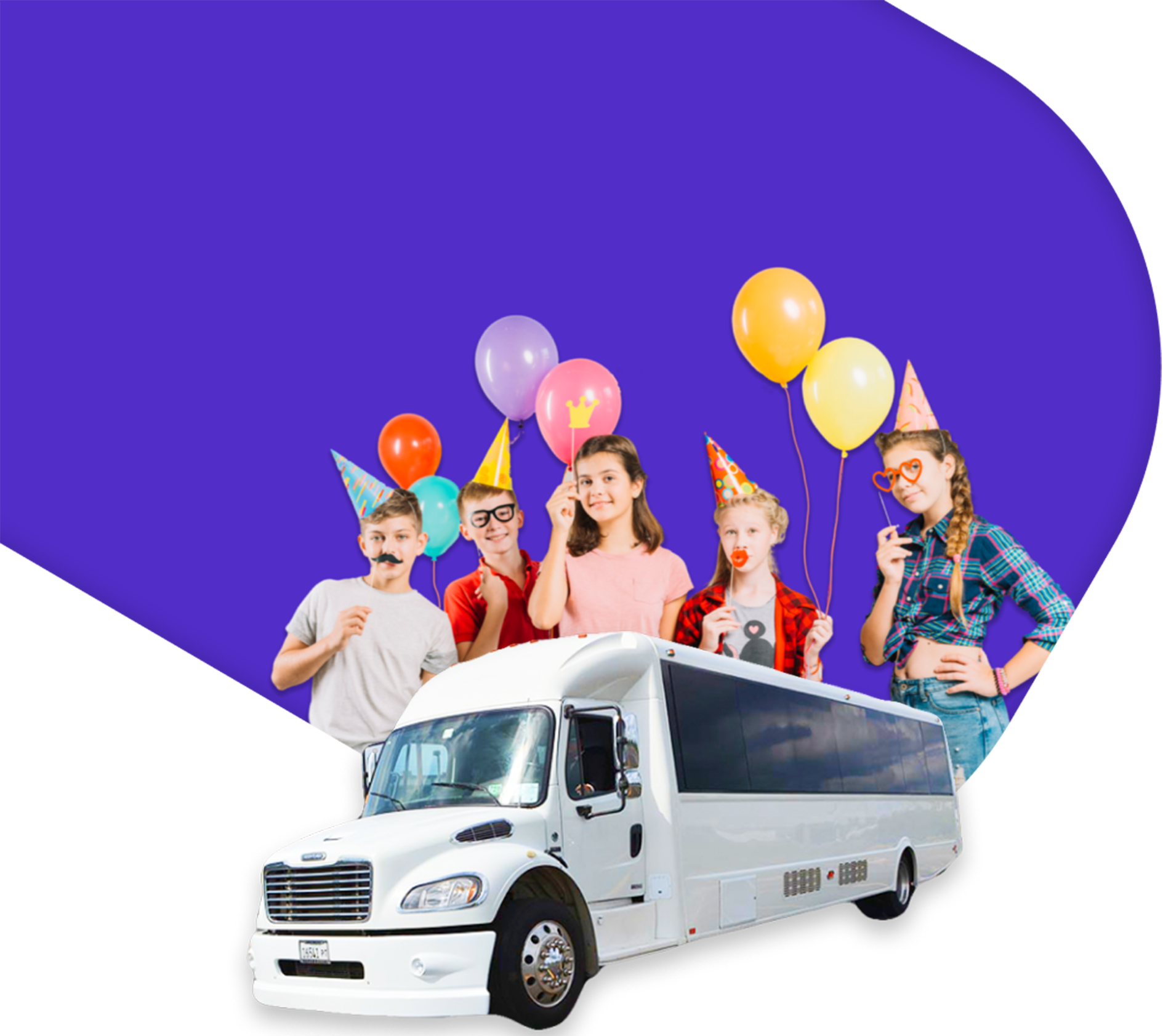 It's not just adults that love party buses!
Why not celebrate a birthday or graduation by treating your youngster and their friends to a day of fun with our Kid-friendly Party Bus?
With 3 LED TVs on board, they can play their favorite video games on their way to the special event or enjoy dazzling LED light and laser shows.
You'll never hear "Are we there yet?" when you ride in style and comfort with our Kid's Party Bus.