Chicago Party Bus Rental Services
Are you looking to hire a limo party bus in Chicago? Or you wish to know more about the best party bus rental prices?
Well, you are in the right place as we review the best limo party bus rental with the best prices.
You can use an elite party bus service for several purposes such as a birthday bash, prom night, wedding, and more.
That said, the party bus prices will depend on various factors such as usage per hour, stops, and the number of passengers.
Our Party Bus Service for Your Special Event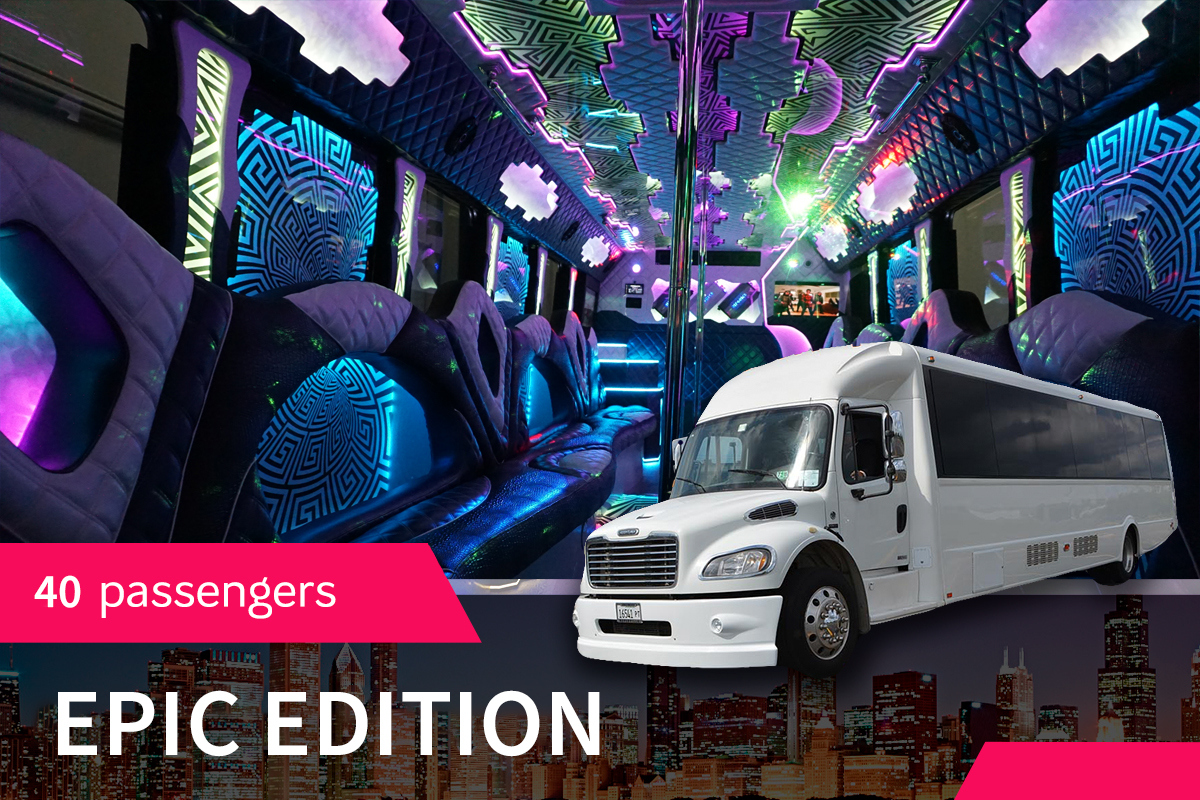 40 PASS. PARTY BUS "EPIC"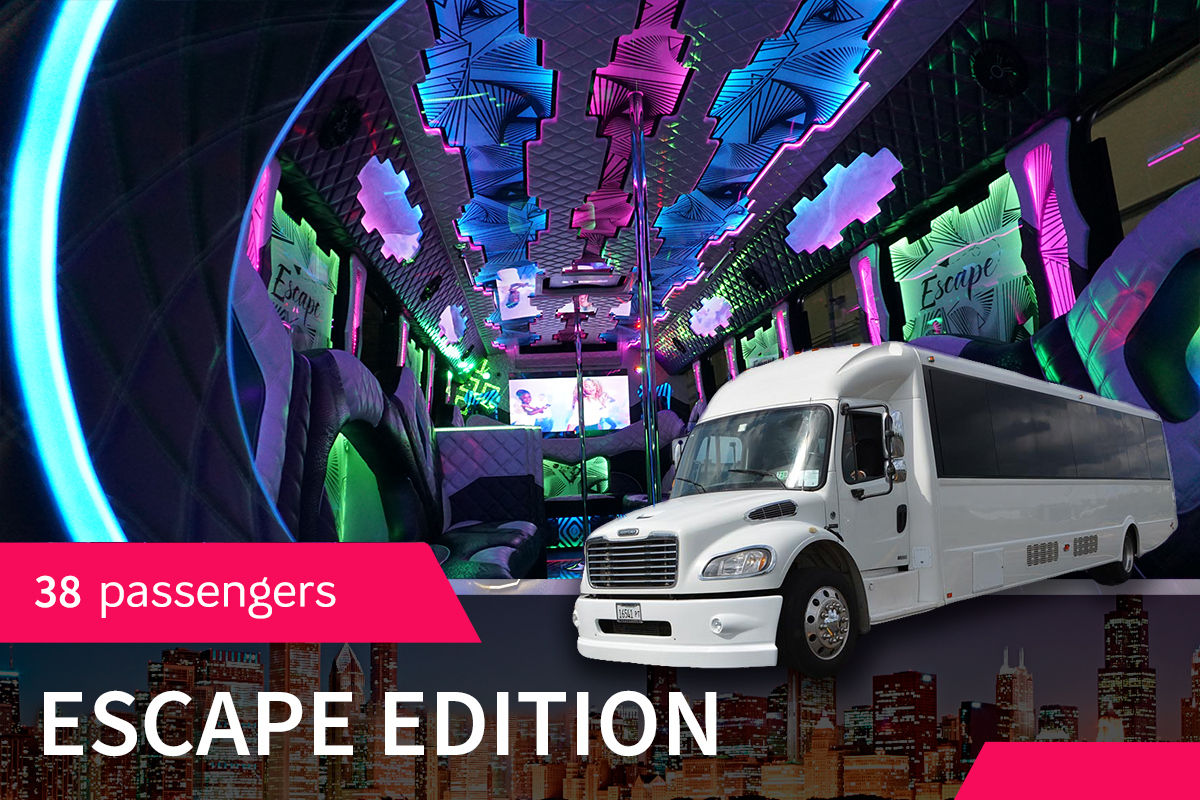 38 PASS. PARTY BUS "ESCAPE EDITION"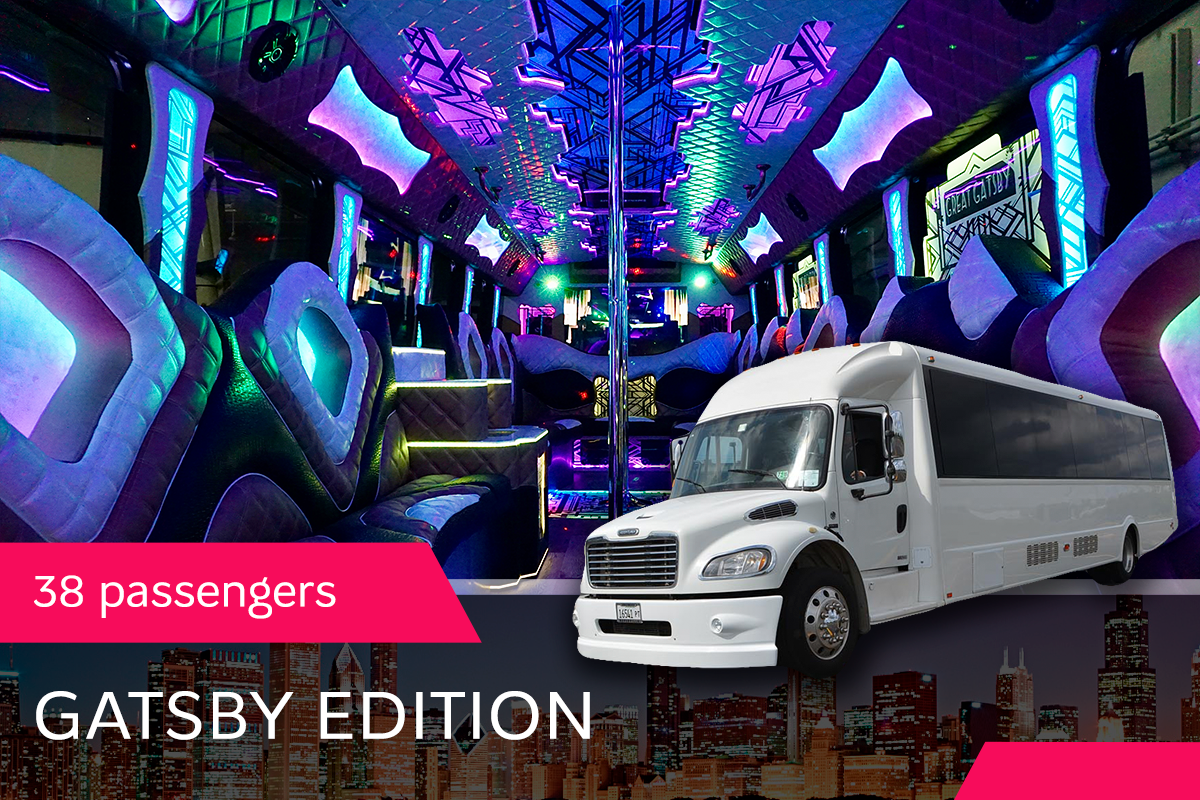 38 PASS. PARTY BUS "GATSBY EDITION"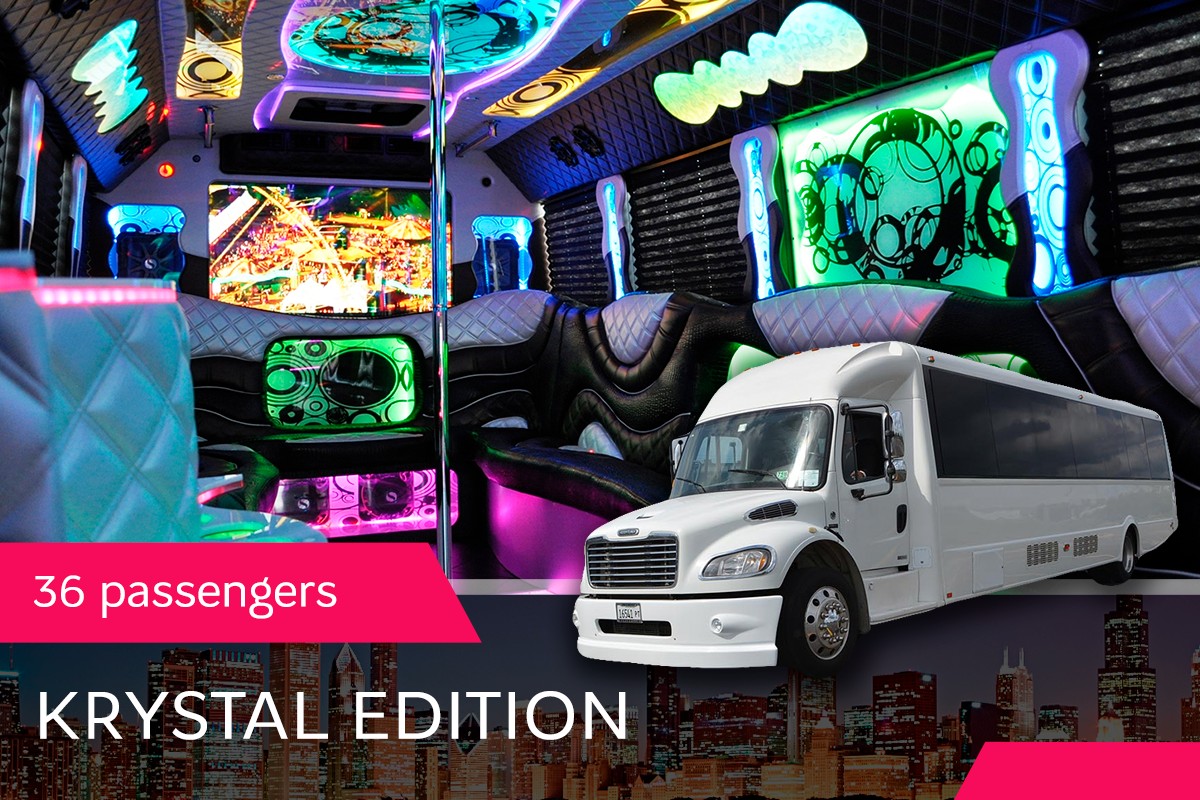 36 PASS. PARTY BUS "KRYSTAL EDITION"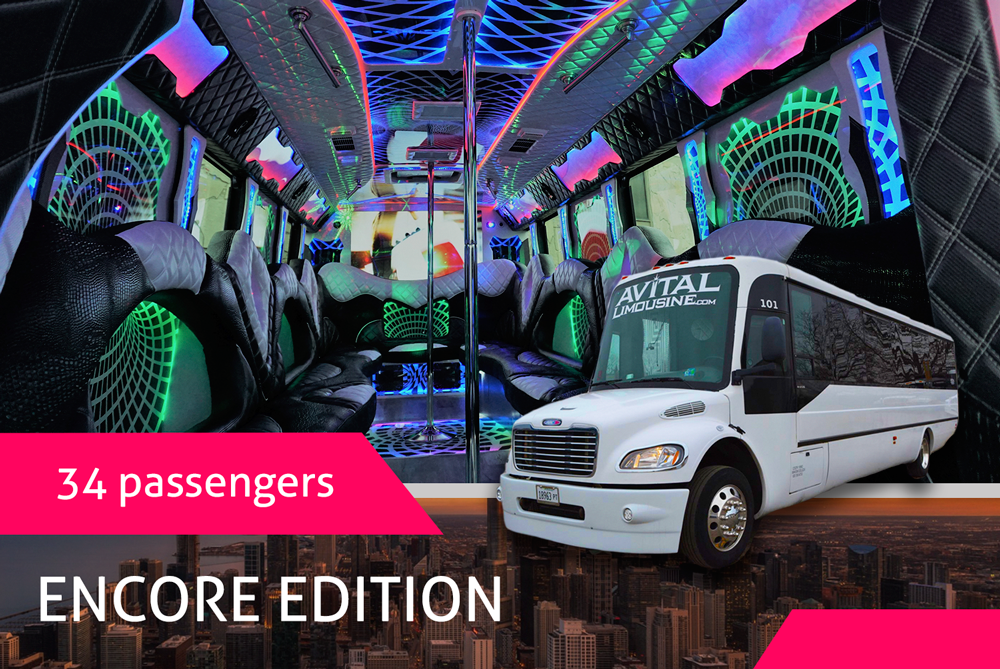 34 PASS. PARTY BUS "ENCORE EDITION"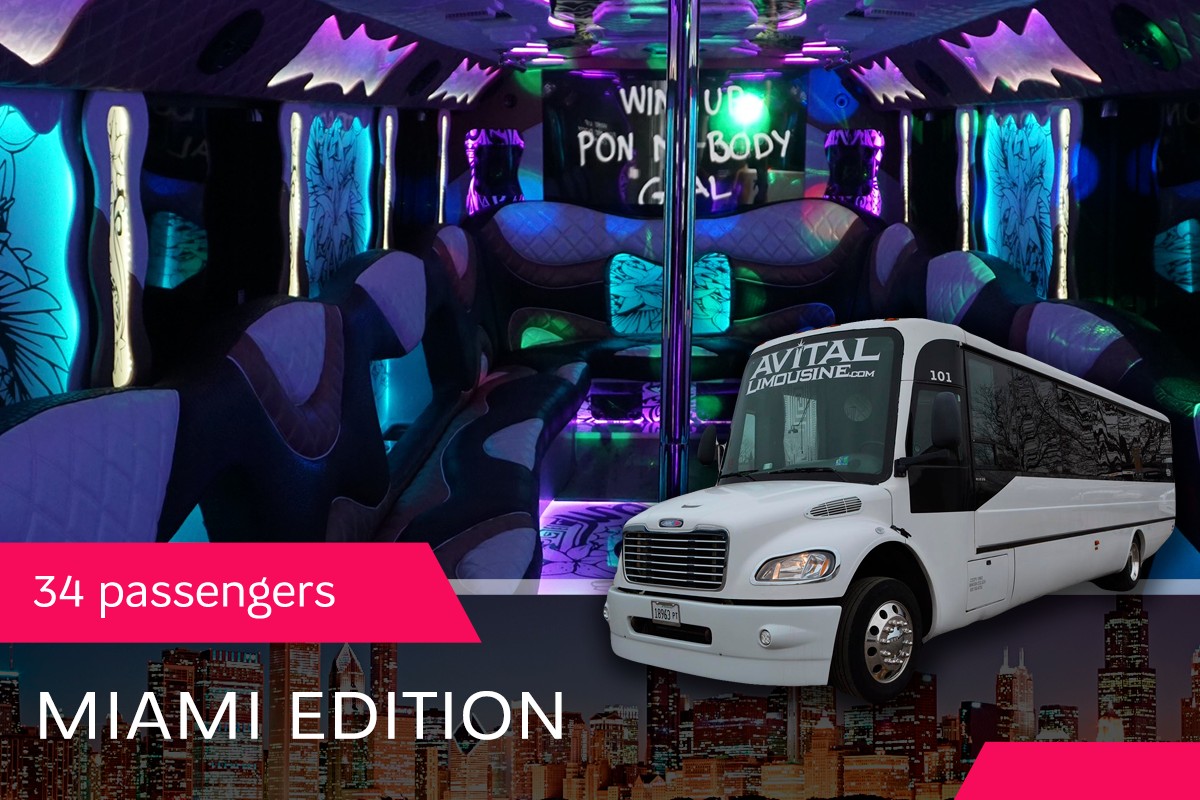 34 PASS. PARTY BUS "MIAMI EDITION"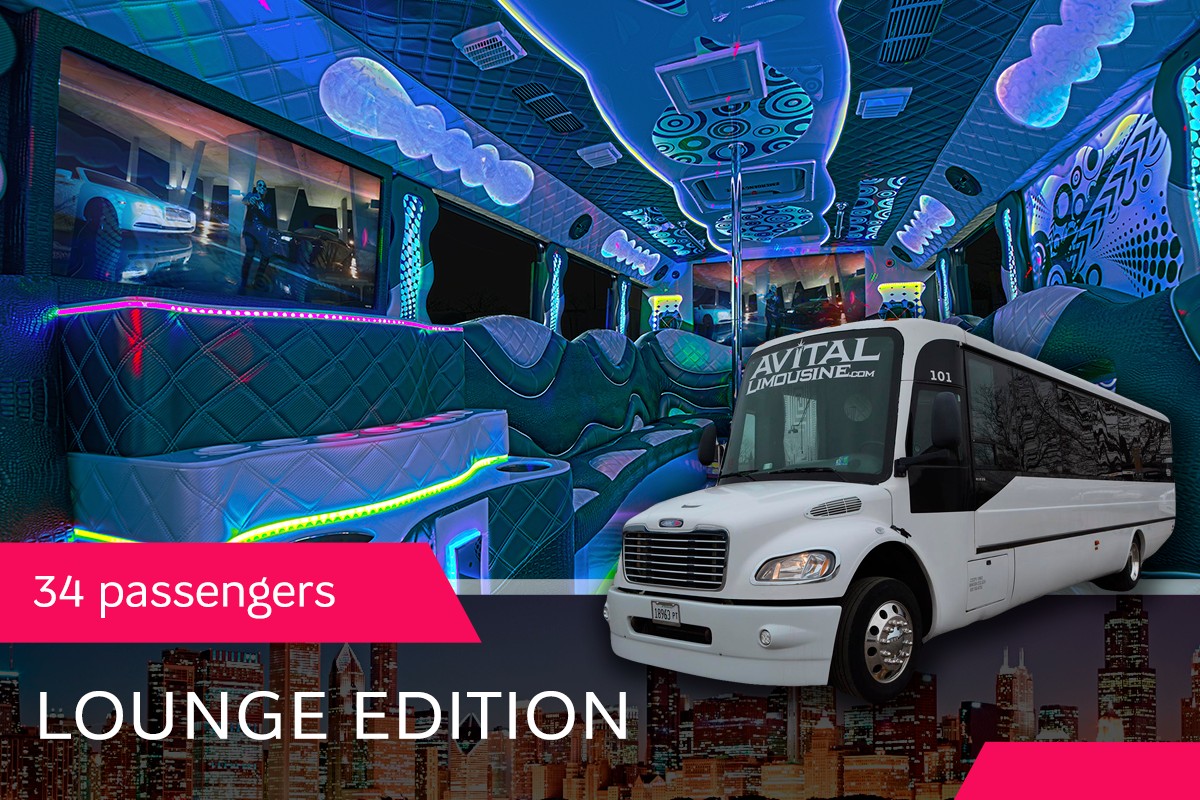 34 PASS. PARTY BUS "LOUNGE EDITION"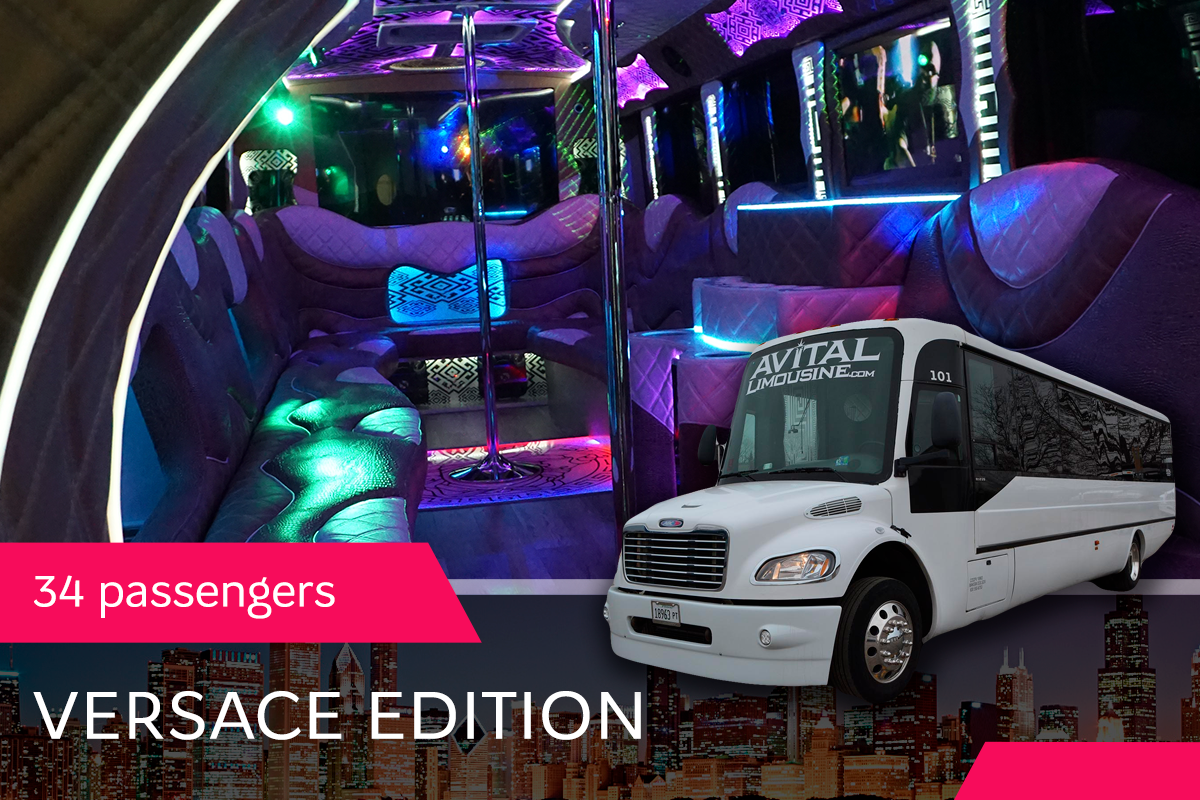 34 PASS. PARTY BUS "VERSACE EDITION"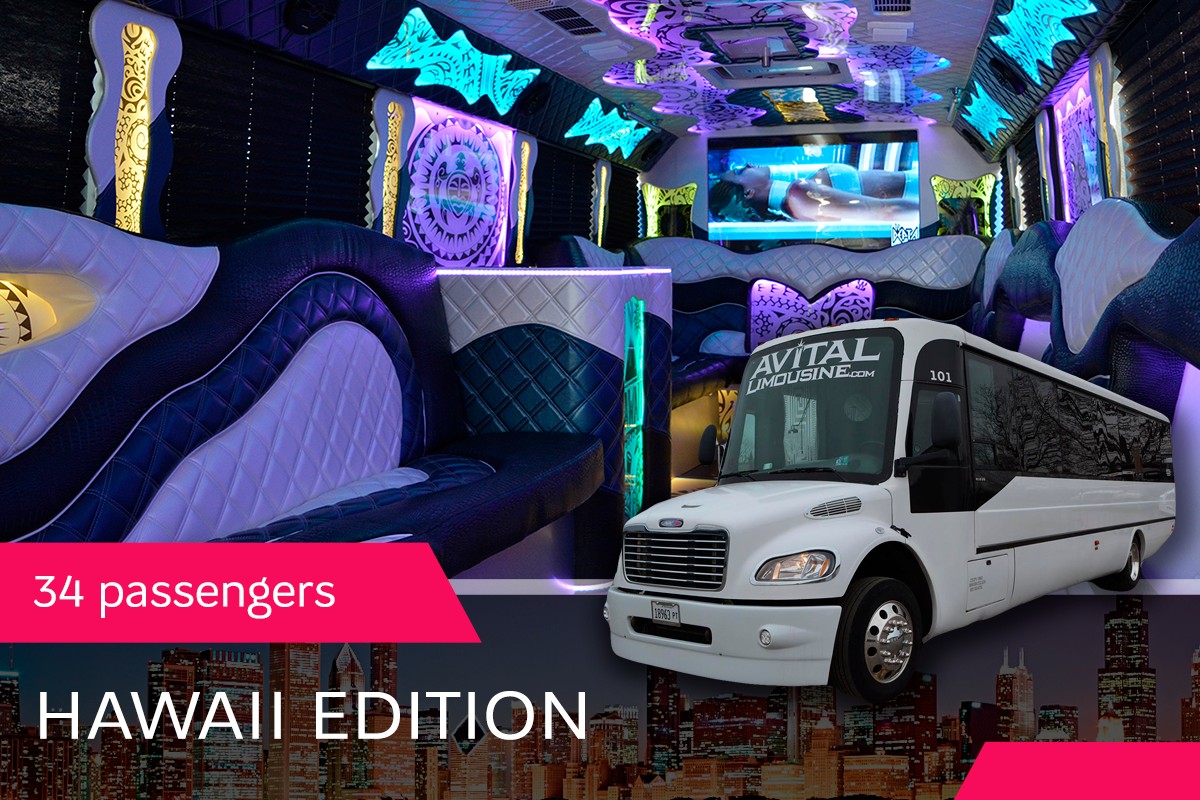 34 PASS. PARTY BUS "HAWAII EDITION"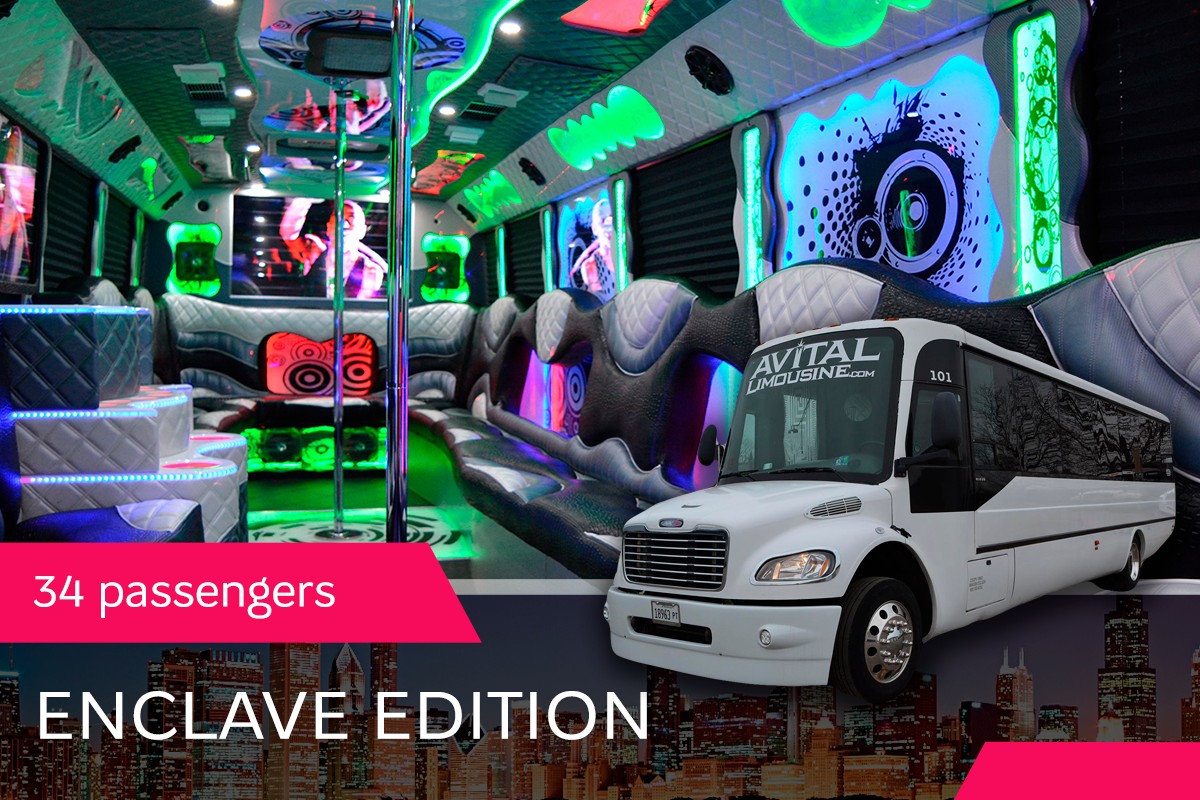 34 PASS. PARTY BUS "ENCLAVE EDITION"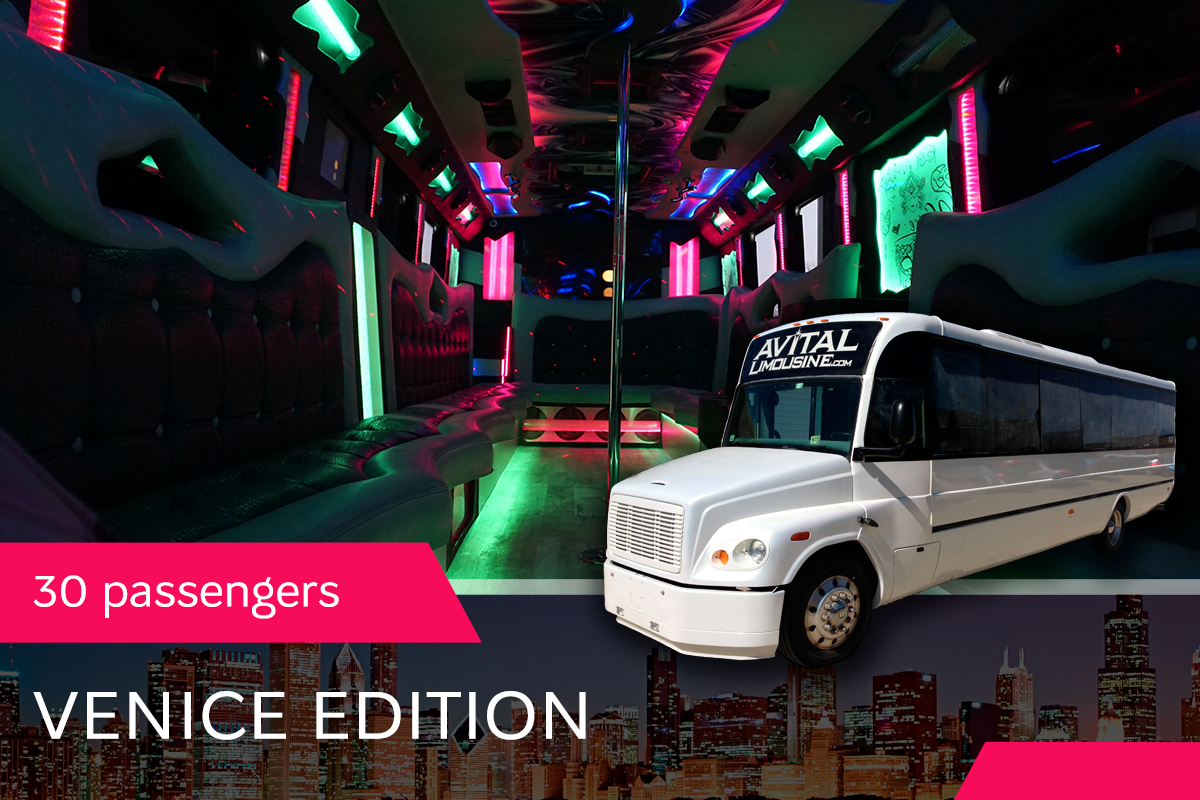 30 PASS. PARTY BUS "VENICE EDITION"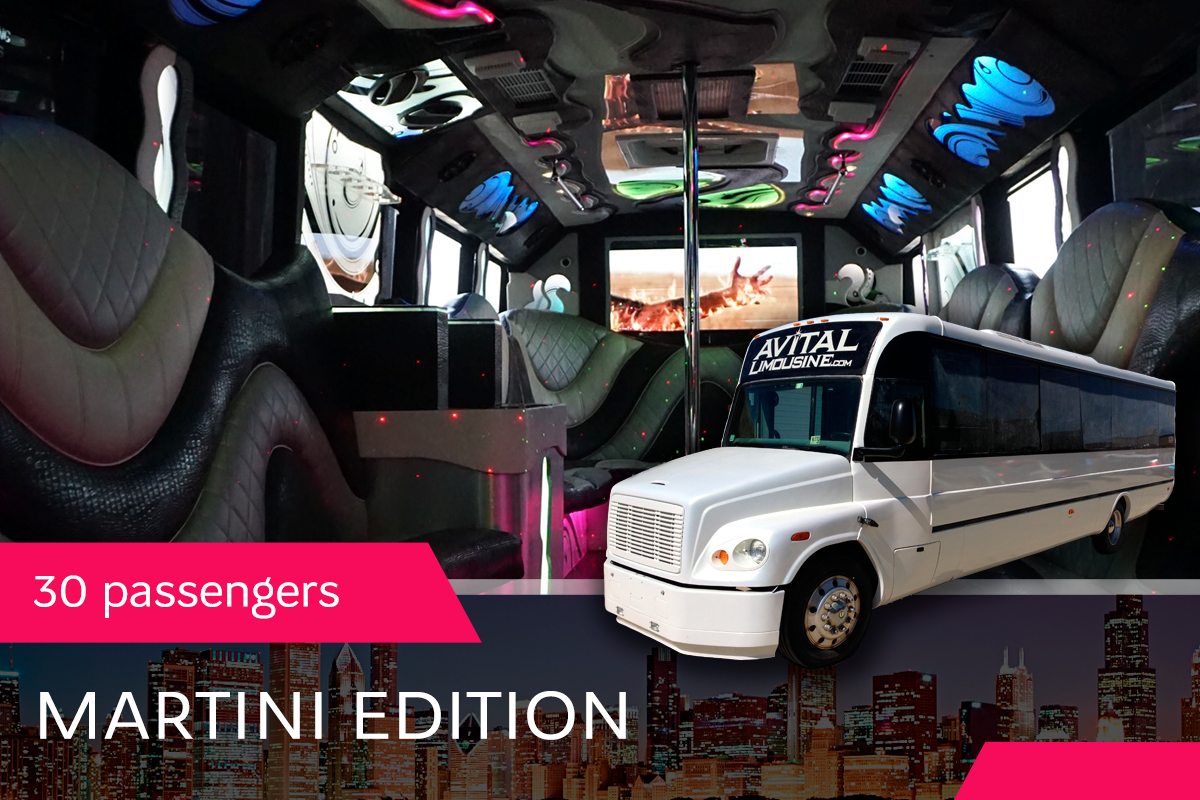 30 PASS. PARTY BUS "MARTINI EDITION"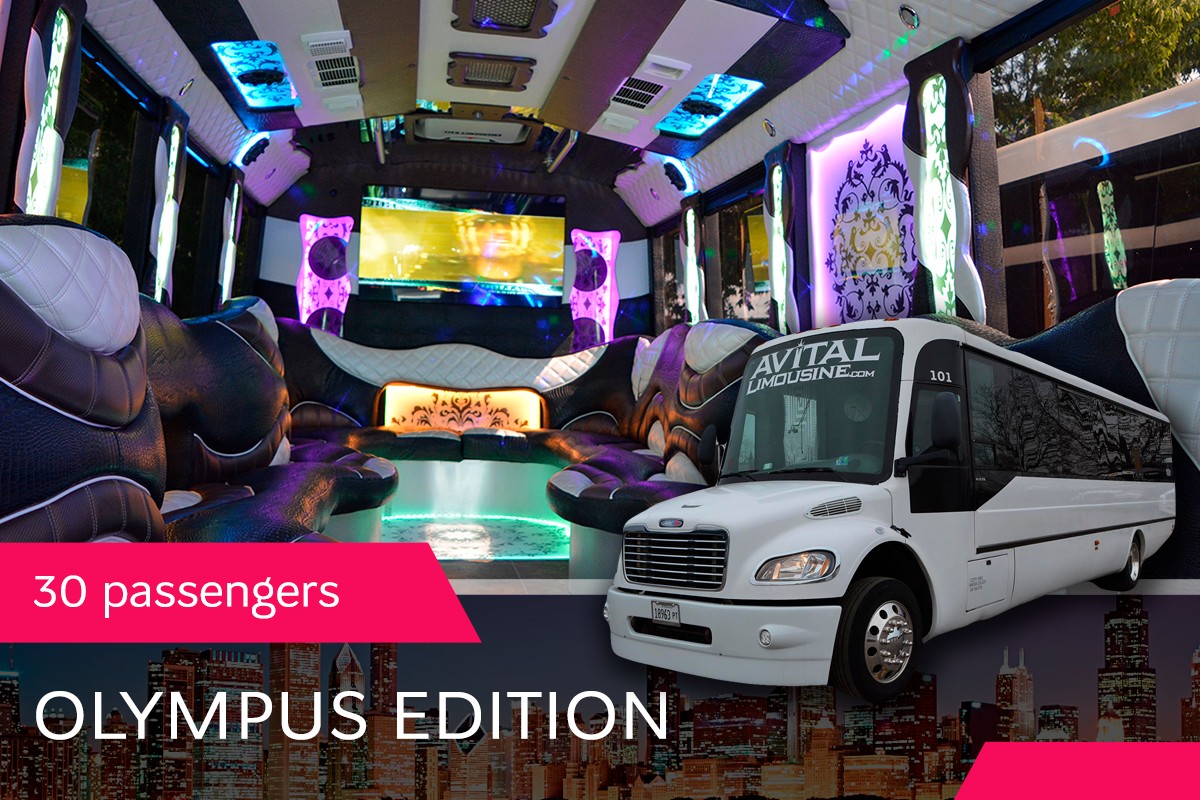 30 PASS. PARTY BUS "OLYMPUS EDITION"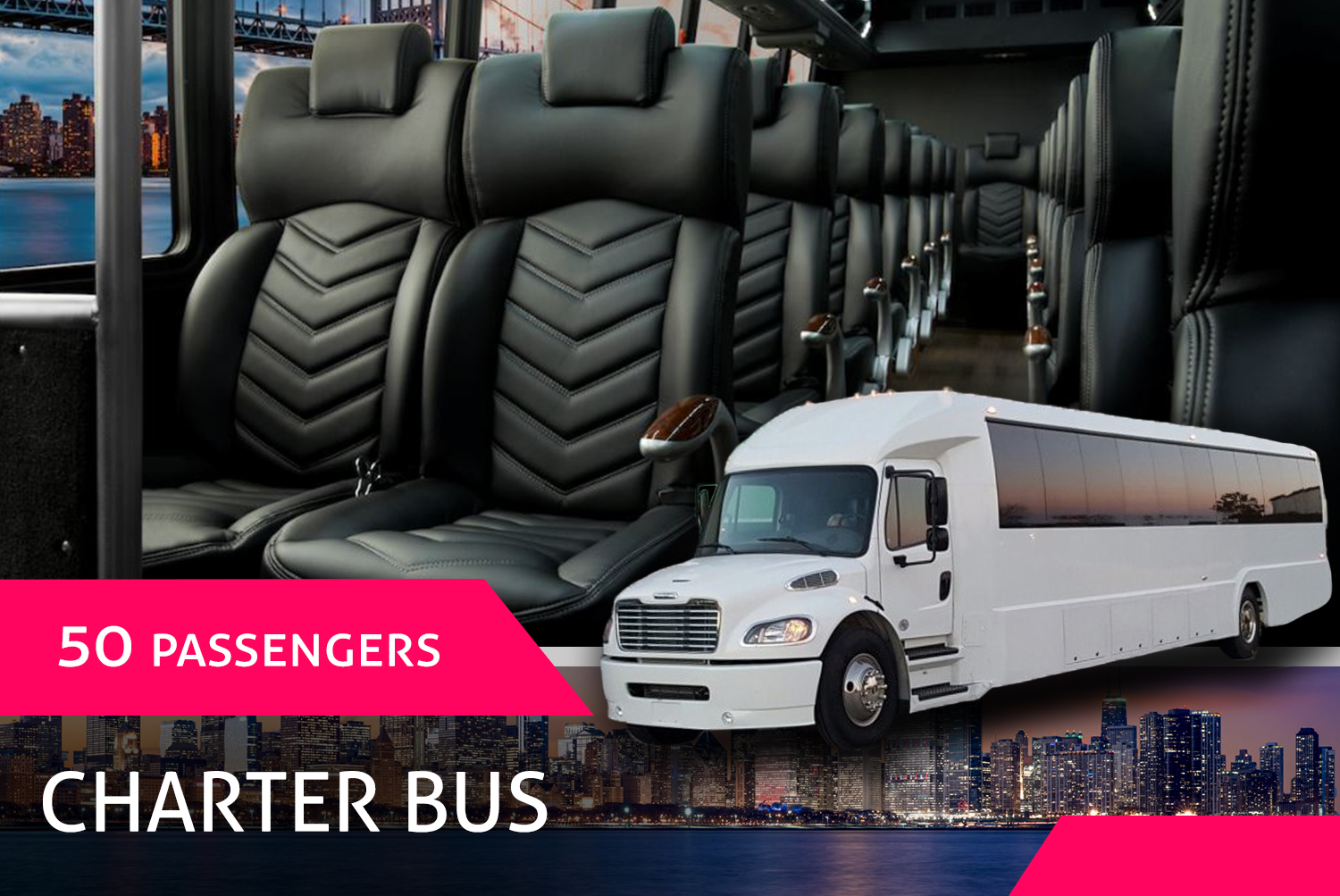 VIEW CHARTER BUS FLEET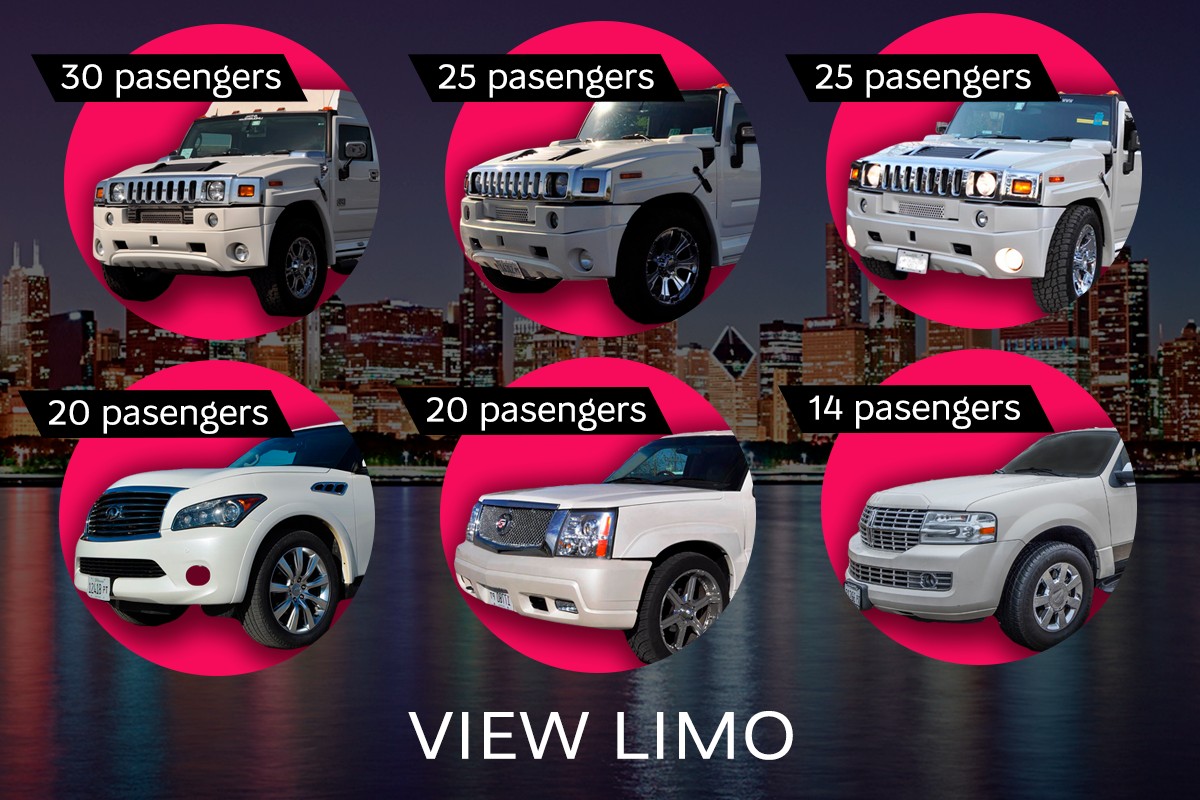 VIEW LIMO FLEET
#1 Rated Chicago Party Buses and Limousine Rental Service!
Whether it is high school prom night, a bachelor or bachelorette parties, you can get a limo bus for any special event you can think of. However, how much is a party bus will depend on your needs and the models you will choose.
Wondering, what is a party bus? It is a limo party bus service that you can use for various occasions.
These buses are like a party club on wheels to take you around town in the Chicagoland area and make stops at your favorite venues and paint the town red.
Chicago Party Bus Clients Testimonial
Our Party Bus Fleet
Here are some of the best options that you can avail of in the Chicagoland Area.
Apart from the party bus sizes, you will also learn about the party bus rates in this article.
36 Pass Limo Party bus Rental – Krystal Edition
Are you looking for a perfect birthday party bus? Then you must check out this Krystal Edition party bus in Chicagoland Area.
You can fit 36 passengers, and it houses 2 VIP disco sections with two stripper poles. Moreover, you get a whopping 15,500 Watts sound system with a 65 inch LED and two smaller LED screens.
The interior is all white, fitted with disco lights and a laser show, and you also get to enjoy your drinks at custom made bars in this party van rental. If it is a special occasion such as quince, why not use this luxurious model as your personal quinceanera party bus.
34 Pass – Miami Edition
If you plan a themed bachelorette party or wedding, why not use this Miami Edition as your wedding party bus rental? It can easily accommodate 36 people, and you get to dance in the disco lights with laser shows on two dedicated dance floors and laser lights from floors to the ceiling.
You can hook your phone or iPod to the sound system to dance away to your favorite tunes or watch your favorite shows on a 65 inch LED and two 27 inch TV screens. You can also check the Hawaii Edition with similar features as another option for a themed occasion.
For all the brides and grooms, partying in this hummer limo will be one of the highlights of your wedding night.
34 Pass Versace Edition Big Party Bus
Are you looking for a prom party bus? Then look no further as this hummer party bus houses everything you will ever need to dance the night away with your friends.
You can invite 34 would-be prom kings and prom queens to join you on two VIP disco floors to rock the night on tune playing on a powerful 15,500 watts sound system.
You can also watch your favorite artists perform on a 65 inch LED and two smaller LED TVs placed in different areas of the bus. Bask in the laser show and floor to ceiling disco lights on your special night.
34 Pass Lounge Edition Limo and Party Bus Rentals
Rent a party bus for a day in Chicagoland Area for a birthday party, wedding night, or a night out with your work clients.
This bus houses 3 TV screens, a powerful sound system, a VIP dance floor with a standing bar, and two stripper poles.
34. Pass Enclave Edition
Another perfect candidate is a party bus in Chicago Suburbs. This Luxurious party bus has a lush white exterior.
Inside, you will find 2 VIP disco sections, custom-made bars, a total of 5 screens, and the entire party bus has three colored Ostrych, Carbofiber leather interior.
This limo bus rental in Chicago suburbs is perfect for a 30 plus-sized party.
34. Pass Venice Edition
If you want a simpler option without worrying about how many people can fit in a party bus, Venice Edition.
While this vehicle is a toned-down version of the previous editions, it still comes with enough fit within your budget.
If you are looking for a birthday party bus rental at an economical price, this is probably an ideal option.
30 Pass Martini Edition
Looking for a party bus for a smaller group of up to 30 passengers, but want the same luxury as other hummer party buses in the Chicagoland area? Then look no further; this Martini Edition birthday party bus rental has all that you will ever need for a wonderful night out on wheels.
Enjoy your favorite tunes on a 15,500 watts sound system, watch your favorite shows, and enjoy the night socializing at a disco bar with disco floors, ceilings, lights, and laser shows.
30 Pass Olympus Edition
For an economical but yet amaizing birthday party bus packages, you must opt for an Olympus Edition Hummer party bus rental. It has two dedicated dance disco sections, a 60 inch LED, and two 27 inches TV screens to entertain you with a 15,500 watts sound system.
Therefore, if you are looking for a wallet-friendly answer to how much to rent a party bus, this limo, and party bus service is your savior.
Our Party Buses Features
Avital Limousine offers professional and customized customer services.
All our buses come with customized laser and disco lights integrated into the bars, floors, and ceilings.
Plus, all our models have the latest and luxurious interior designs and leather.
If you are looking for a classy, lavish, and latest party buses, we promise to offer some of the most affordable rates in the Chicagoland area and its suburbs.
Party Bus Rental Prices in Chicago
Now comes the part, how much does it cost to rent a party bus? Well, the party bus rental prices depend on the nature of use. Such as:
Which day of the week do you wish to hire? Are weekdays best to secure better rates?
Do you wish to hire a party bus for a night or just a few hours?
Number of stops you are going to make
Mileage
Amenities you will utilize
Most importantly, the party bus rental service will charge you on a per hour basis.
Choose the Best Limo Party Bus in Chicagoland Area
Whichever of the above-mentioned party bus rental suit your needs and style, you can get them at Avital Chicago Limousine Party Bus Rental Services.
They have some of the best and modern party limo buses available for all occasions, and they have fully licensed professional chauffeurs.
So what are you waiting for? Contact Avital Limousine today and discuss your option.
REASONS WHY TO CHOOSE AVITAL LIMOUSINE:

Professional and sophisticated customer service

Amazing, custom made interior design (all limos/party buses are equipped with disco ceiling, disco floors, disco bars, lasers etc…)

Affordable rates – always trying to match the prices to meet customer's budget

The latest interior upgrades

Classy, stylish, latest models of SUV Limos and Party Buses

Professional, trained and licensed chauffeurs, who are always on time