Wedding Limo Rental Services in Chicago
Are you looking for a luxury wedding limousine for your bachelor or bachelorette parties in the Chicago area?
You are in the right place as we review Avital Limousine offering wedding limousine rental and wedding bus services at reasonable prices.
Wedding transportation is always of significance for both brides and grooms; therefore, Avital offers the best services in town.
Here is a detailed review of the range of their services.
Wedding Package for Limousines and Party Buses
You can grab a wedding package by Avital Limousine that includes
Latest-model limousine.
Professional dressed chauffeur.
Floral decoration of your choice outside the limo.
Red carpet service and a "just married" sign.
Two complimentary bottles of champagne.
Complimentary bar refreshments, including wet liquor, water, ice, and soda.
You get to enjoy unlimited mileage and stops as per your choice.
Prices for Limo Rental Services for Weddings in Chicago
To get the limo service for wedding prices, you can contact Avital Limousine.
Wedding Limousine Rental Rates in Chicago
The hourly rates for this service will vary depending on the type of limo rental you choose and the hours you need the service for.
To find out the cost give us a call or use the live chat!.
Wedding Party Bus Rental Rates
The same formula applies here; the rates will depend on the length of service hours, date, and type of bus you hire.
You may secure the rates for using a limo bus, call or inquire with the estimate form call to inquire for pricing!.
Read
View reviews:
in
Wedding Vehicles to Choose From
Whether it is the Chicago wedding limo or wedding party bus service you are after, Avital Limousine caters to all your needs.
We will take you around town for a night out for a bachelor or bachelorette party or transporting your guests on a bus from point A to point B.
We have an extensive range of fleets ranging from a luxurious limousine to a spacious party bus. Let us dive a little deeper and see what options you can avail of.
Wedding Limousine
Avital Limousine has six different types of Chicago wedding limo rental you can pick from.
30 Pass Hummer H2
You can accommodate 30 passengers in this luxury wedding limousine.
It has 2 Gullwing Doors, a butterfly door, and a 12-inch high roof, which will make you feel like you are on a wedding party bus. Moreover, you get to party with an 8,500 watts sound system, and a 46 inches LED TV, laser show, disco floor, lights, bars, and ceiling.
25 Pass Hummer H2 – with Double Axle
Enjoy a chauffeur-driven Chicago wedding limo, i.e., a double Axle Hummer.
It can house 25 party members with luxurious black leathered seats on Xenon chassis. Moreover, you get to enjoy a state-of-the-art sound system with 8,500 watts speakers. This stretch limousine comes with 2 bars built-into the seats and has disco lights integrated into the floor, bar, and ceilings.
25 Pass Hummer H2 – White Pearl
Fancy a limousine rental in Chicago with a VIP disco section? Then you must look at Avital's 25 Pass Hummer H2 White Pearl Edition.
This luxurious vehicle has 22-inch chrome rims and a xenon body kit and houses an 8,500 watts sound system that you can hook up with your iPod, CD, mp3 player as well. Moreover, you can enjoy a 46 inch LED screen with a laser show and disco lights embedded into the bars, ceilings, and floor of this beast.
20 Pass Infiniti QX56 – Snow Pearl
A limousine with 25 passenger seats, a VIP disco section, and 5 LED screens is a perfect fit for any party or wedding occasion. Why not party with your guests in a VIP disco section supported by a powerful sound system?
20 Pass Cadillac Escalade
The bride or groom-to-be can party all night in this 20 passenger limousine with interior leather comfort.
You can enjoy your favorite shows, and music charts on a 24 inch LED screen or dance to your favorite tunes on a 5,500 watts sound system.
This wedding limo also has a dedicated disco section with laser show, lights embedded in the entire interior.
14 Pass Lincoln Navigator
Have a smaller group of people and looking for a cozier wedding limo rental?
You can opt for this 14-seater Lincoln Navigator at Avital Limousine rental in Chicago. Do not be fooled by its size; the limo has a 5,500 watts sound system, an LED screen, a VIP disco section, a built-in bar with disco lights, and a laser show.
So listen to your favorite artists or watch your favorite sitcoms.
Wedding Party Bus
There are nine wedding party buses that Avital Limousine offers in Chicago.
36 Pass Krystal Edition
This wedding party bus can accommodate 36 passengers and come in white exteriors.
You get 2 VIP disco sections with a 15,500 watts sound system. Moreover, you can enjoy your drink at two custom made bars and have a bit of banter with two stripper/dance poles. It comes with a 65 inch LED screen and two 27 inches smaller TVs. The interior has embedded disco lights and a laser show with a leather interior.
34 Pass Miami Edition
This one can accommodate 34 passengers and comes with all the features of a 36 Pass Krystal Edition. Besides, this Chicago wedding limo houses additional three 30 inches TV screens and a 3D disco floor.
34 Pass Lounge Edition
It is a perfect fit for a party of 34 passengers with a VIP disco section, laser show, disco lights, and stripper poles. Dance the night away with a powerful sound system and three impressive LED screens.
34 Pass Versace Edition
A 34 seater with 2 VIP disco floors, a 15,500 watt sound system is going to rock your bachelor or bachelorette parties in Chicago. Enjoy your favorite shows and music videos on a 65 inch LED TV and two smaller LED TV screens of 39 and 27 inches with a laser show and disco lights.
34 Pass Hawaii Edition
This wedding bus rental is also a 34 seater with 2 VIP disco floors, a sound system, a 60-inch LED screen, and two 27 inches screens. The interior design gives an ambiance of a Hawaiian night out with impressive disco lights and laser show to uplift your mood and turn this into one of the best joy rides of your life.
34 Pass Enclave Edition
A 34 seater with a white exterior, three-colored interior leather, and custom made bars will be one of the most luxurious rides you could ask for. You get a powerful sound system, floor-to-ceiling laser show, and disco lights for an epic party on the wheels.
34 Pass Venice Edition
It is a tone down version of other bigger party buses and can accommodate 34 seats, a dedicated disco section, sound system, and a massive 60 inch LED and two 27 inch TV screens with disco and laser lights.
30 Pass Martini Edition
Got a party of 30 guests and want to party on wants a wedding party bus rental in the Chicago area with a real bar? Hire Avital's Martini Edition.
It has 3 LED screens, a powerful sound system with strobe lights, disco and laser lights. Moreover, you get a disco bar with two stripper/dance poles.
Or you can go with the Olympus Edition without real bar options but with similar features.
AVITAL PREVIOUS CUSTOMERS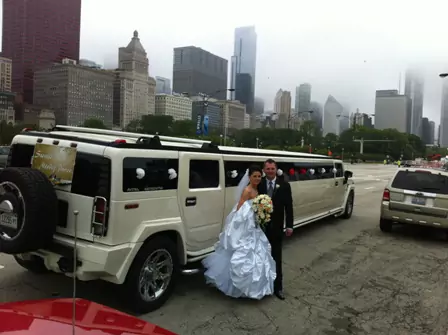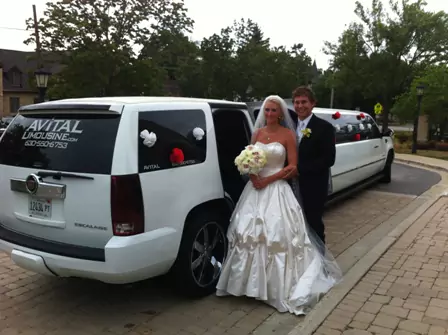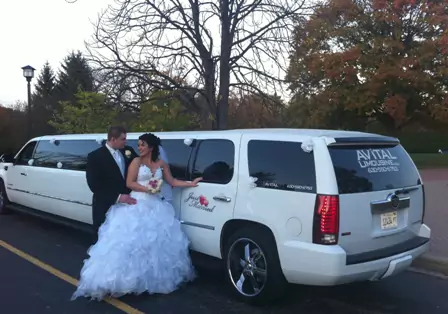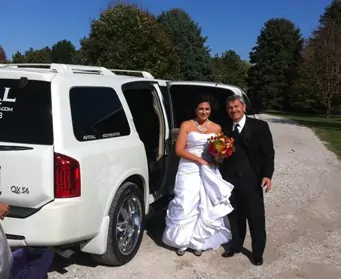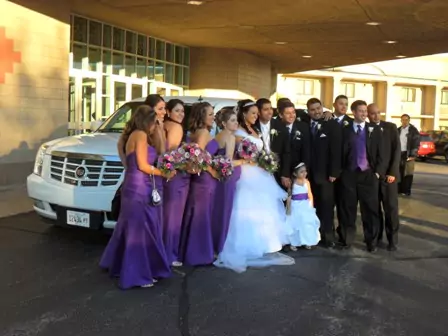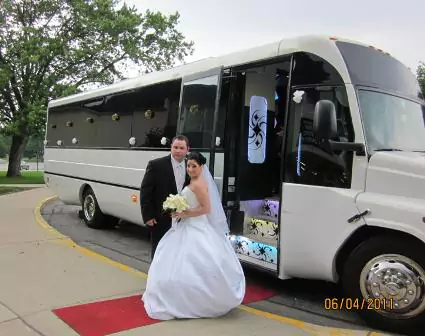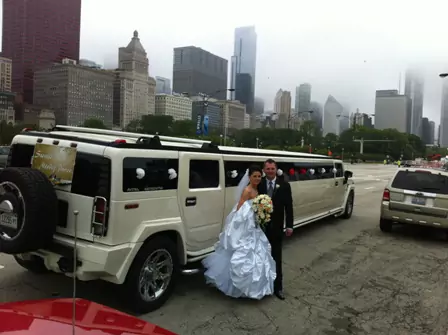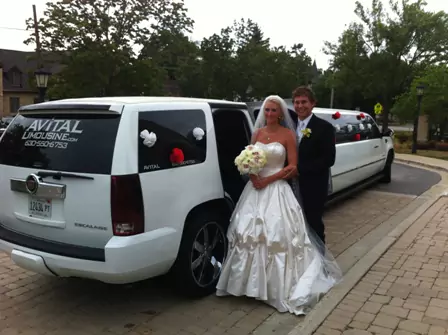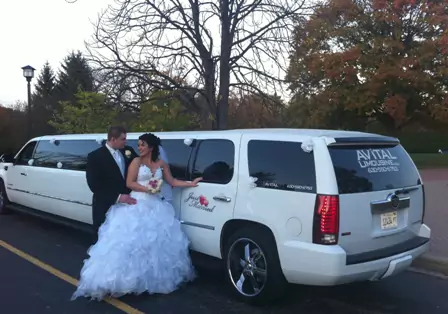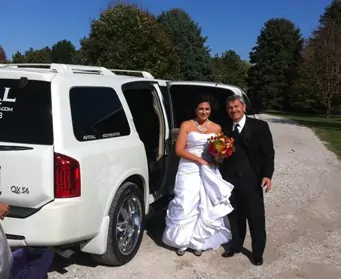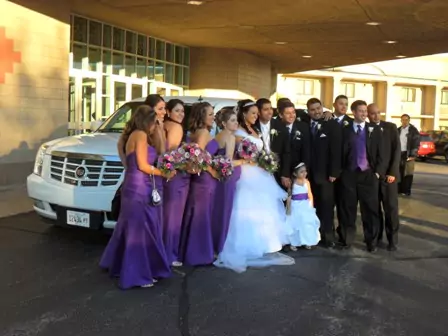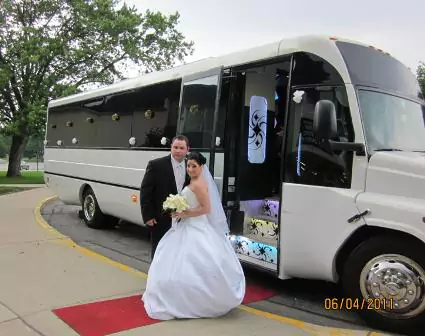 Choose the Best Wedding Limousine Service in Chicago
We found Avital Limousine to be one-of-a-kind wedding limo rental and wedding party bus rental services in Chicago.
If you want the party with your wedding guests, we recommend checking out their wedding limo packages and choosing the suitable one for you.
Feel free to contact Avital Limousine now.
REASONS WHY TO CHOOSE AVITAL LIMOUSINE:

Professional and sophisticated customer service

Amazing, custom made interior design (all limos/party buses are equipped with disco ceiling, disco floors, disco bars, lasers etc…)

Affordable rates – always trying to match the prices to meet customer's budget

The latest interior upgrades

Classy, stylish, latest models of SUV Limos and Party Buses

Professional, trained and licensed chauffeurs, who are always on time